The virtual load balancer appliance software
Load balancer is a device that manages requests from outside network and transfer them over multiple functionally identical servers. Dispersing requests on as many servers as possible, its aim is to keep each server at its best speed of response. Besides, in case client needs to communicate several times with one server in order to complete a series of transaction, then there is need of sending further requests from the same client to the same server. There are special hardwares those are load balancers, but there are also applications that by installing them, the server acts as a load balancer.
Murakumo has successfully developed a load balancer application that is suitable for virtual servers. Because it is virtual server's image file, there is no troublesome installation. The feature by being a virtual server is also cost reduction, because it shares hardware resources with other servers. Because it has the capability of detecting related servers, it can manage and run independently without special setting for a load balancer. With these features, VirtualLoad reduces the cost of installation and operation, and becoming a virtual load balancer appliance software that is suitable for the new IT age.
VirtualLoad Version 3.0
Compatibility: VMWare Server/ESX/ESXi running server (at least 2 virtual machine structure to build the Active - Active structure)
Price (without tax) \1,500,000
High throughput and high availability with Active-Active structure
Different from other's Active-Standby structure, by running on two virtual machines, it has both high availability and high performance.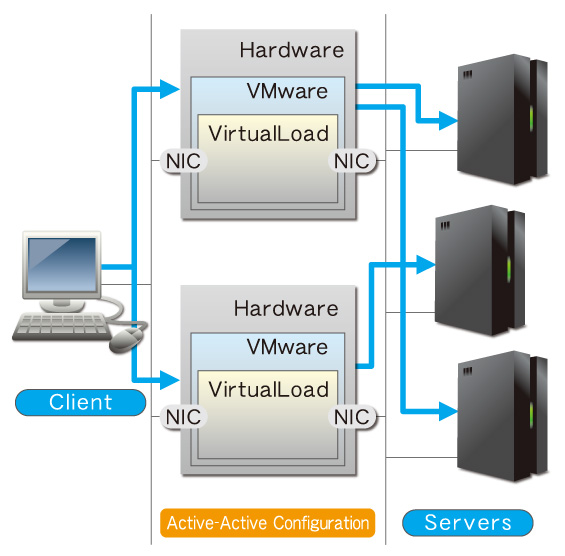 Virtual machine's image that is ready-to-use after installing OS/software
There's no need of creating a new virtual machine, or OS installation. Everything is packed in the image file.
Others
Layer4 / Layer7 load balancer
SSL acceleration, compression, and cache (for Layer7, HTTP/HTTPS)
NAT/Gateway topology support
Sticky connection support
SSL remote control
Service observation: FTP SMTP HTTP POP POPS NNTP IMAP IMAPS LDAP HTTPS DNS MySQL PostgreSQL SIP SSH TCP/IP
Support for Least-Connection and Round-Robin